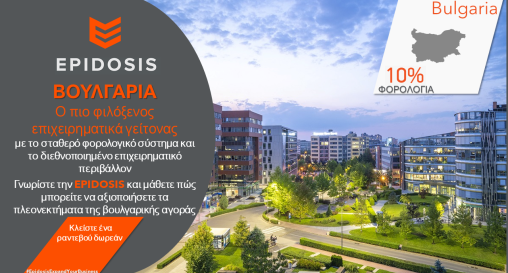 Business-friendly neighbour - BULGARIA
Bulgaria is one of the friendliest countries for investment as it creates the right conditions for the establishment of an ideal business centre and at the same time offers an internationalised business environment, with low taxation and a stable tax system.
As a member of the European family since 2007, it is subject to the provisions concerning intra-Community transactions between Member States and has concluded double taxation conventions with most of them.
Establishing a company in Bulgaria brings multiple benefits. The legal, insurance and tax framework is stable and the business environment is very friendly and encourages foreign investment. At the same time, the country enjoys all the advantages of European legislation - free movement of people, goods & capital and is included in several development programmes.
How to own a company in Bulgaria
The process of setting up a company in Bulgaria is quick and simple, with all professions being open and accessible.
Setting up your company in Bulgaria requires completing a number of bureaucratic procedures related to public institutions and services, where good knowledge, prompt and flexible management is required in order to achieve our goal. You, you only have to authorize our office, and we will move immediately to establish your company.
The company is incorporated within 4 working days (obtaining a Bulgarian VAT number, opening of corporate current bank accounts) and the company is registered in the VIES system, for obtaining a European VAT number, together with an EORI customs number (for international transactions in third countries), within 10 working days. For tax purposes, any costs incurred in setting up the company are recognised as company formation costs and can be included in future balance sheets as they are deductible from the accounting result.
Why choose EPIDOSIS
For your business venture to be successful and safe, the right plan and best practices must be implemented. The comprehensive tax planning that we offer, due to our long experience and involvement with the Bulgarian tax system, allows us to propose unique solutions that fully meet each case - yours. With high training, deep knowledge and confidentiality we will meet your every business need both in Greece and Bulgaria.
- Incorporation - Establishment of a Company in Bulgaria
Registering a company in Bulgaria is an extremely simple process and is completed without the expedited procedure within one week or with the expedited procedure within 3-4 working days. At the same time, Bulgarian legislation allows for the transfer of headquarters from third countries, giving companies the right to become tax residents and gaining significant competitive advantages.
- Ready Made Companies (RMC) in Bulgaria
Did you know that you can get a legal company in Bulgaria, fully integrated in the European VIES system and all the necessary certificates? Within 10 days, we take care of all procedures and transfer of the company share so that the company can perform any commercial activity.
- Foreign branch with headquarters in Bulgaria
What specific business strategy allows you to enjoy the favourable tax provisions in Bulgaria without interrupting your activity in Greece at all? The establishment of a foreign branch in Greece and the transfer of headquarters to Bulgaria will give your company a significant competitive advantage over other domestic companies.
EPIDOSIS: Integrated Tax and Accounting Support Services
The company EPIDOSIS provides you with comprehensive tax and accounting support and tax planning services for the business you intend to establish or have already established in Bulgaria.
Accounting support from our experienced staff.
Personalized Tax Planning based on the combined tax legislation of Greece and Bulgaria.
Keeping and monitoring the accounting books of your company.
Education - training of your executives for the correct issue of invoices - documents issued by your company.
Submission of all tax returns to the competent financial department.
Payment through the banking system of all taxes that will arise during the financial year.
Decisions are taken in Bulgaria and not in Greece, as that is where the Board meets.
Financial data of the company (turnover, profits, bank transfer payments) so that you can prove that your company is active and not inactive.
We are EPIDOSIS
We believe that every professional should develop their business without barriers and obstacles. To be able, unaffected by tax, accounting and legal issues, to create a functional, profitable and continuously evolving company. In addition, with a huge range of core and complementary services, he is able to embrace every aspect of your business and steadily take it to the top. Our company's mission is to assist in every key aspect of the company so that every entrepreneur can invest their time and focus on making strategic decisions that will yield profit and growth.
We are at your disposal for a free appointment at our offices in Thessaloniki and Athens or remotely to talk about your business plan and how we can contribute to your professional success with definite steps and absolute expertise.
Contact today directly with the experienced team of EPIDOSIS at 2310 477725 or fill in the contact form HERE.