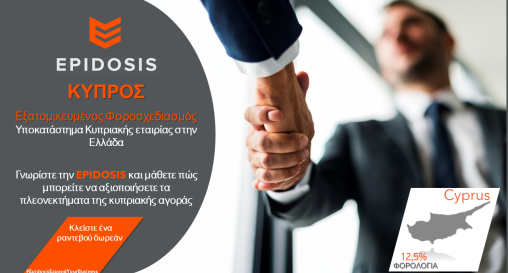 Υποκατάστημα Κυπριακής εταιρίας στην Ελλάδα
Σε ένα εξαιρετικά ανταγωνιστικό  επιχειρηματικό περιβάλλον, και σε ένα κόσμο που συνεχώς αλλάζει, οι σύγχρονες εταιρίες αναζητούν νέες αποδοτικά όσο και ευέλικτα εταιρικά σχήματα.  Το υποκατάστημα αλλοδαπής αποτελεί μια επιπλέον εταιρική μορφή η οποία σας επιτρέπει να αποκτήσετε ευκολότερη πρόσβαση στις διεθνείς αγορές με τα όσα σημαντικά ανταγωνιστικά πλεονεκτήματα συνεπάγονται απολαμβάνοντας παράλληλα όλα τα οφέλη από την αδιάκοπη επιχειρηματική δραστηριότητά σας στην Ελλάδα.
Η μεταφορά της εταιρικής σας έδρας σε χώρες που ενθαρρύνουν την επιχειρηματικότητα, όπως η Cyprus, και η διατήρηση υποκαταστήματος στην Ελλάδα θα σας εξασφαλίσει ένα εξαιρετικό ανταγωνιστικό προβάδισμα έναντι των υπόλοιπων ημεδαπών εταιρειών καθώς θα μπορείτε να αποκομίσετε όλες τις φορολογικές διευκολύνσεις που επικρατούν στις χώρες αυτές χωρίς να διακόψετε την δραστηριότητα σας εντός συνόρων, και χωρίς επιπλέον φορολογικές και ασφαλιστικές επιβαρύνσεις του διαχειριστή (νόμιμου εκπροσώπου) του παραρτήματος στην Ελλάδα.
Δείτε παρακάτω τα συγκριτικά πλεονεκτήματα της σύστασης Υποκαταστήματος Κυπριακής εταιρίας  στην Ελλάδα
In other matters, the Aliens Branch has in our country:
Normal VAT
It has a Greek tax identification number and is subject to the DOU of anonymous companies
Tax Cash Machine or Tax Mechanism
Maintains Diploma Books (3rd Class)
Employs staff with Social Security Insurance
Μισθώνει εγκαταστάσεις στην χώρα μας (κατάστημα, γραφειο, παραγωγική μονάδα, αποθήκη κλπ)
Can have ANY ACTIVITY (KAD)
Και γενικά συμπεριφέρεται και αντιμετωπίζεται (στα υπόλοιπα θέματα) όπως οι Ελληνικές εταιρείες
Why choose EPIDOSIS
The company EPIDOSIS διαθέτει πλήρη εξειδίκευση στη υποστήριξη εταιριών και σας προτείνει να δημιουργήσετε ένα Υποκατάστημα της Αλλοδαπής στην Ελλάδα για την Κυπριακή σας εταιρεία
The extensive experience and years of dealing with the tax regimes of Poland, Cyprus, Bulgaria and Greece allow us to offer a wide range of basic and complementary services for the specific countries. At the same time, personalized tax planning that we will perform exclusively for your company will maximize your profit and create a functional, profitable and sustainable European company.
For your business venture to be successful and safe, the right plan and best practices must be implemented. The comprehensive tax planning that we offer, due to our long experience and involvement with the Cyprus tax system, allows us to propose unique solutions that fully meet each case - yours. With high training, deep knowledge and confidentiality we will meet your every business need both in Greece and Cyprus.
Establishment – ​​Incorporation of a Company in Cyprus
Η εγγραφή εταιρείας στην Cyprus είναι μία εξαιρετικά απλή διαδικασία και ολοκληρώνεται χωρίς τη διαδικασία επίσπευσης εντός μίας εβδομάδας ή με τη διαδικασία επίσπευσης εντός 3-4 εργάσιμων ημερών. Παράλληλα, η νομοθεσία της Κύπρου επιτρέπει την μεταφορά έδρας από τρίτες χώρες παρέχοντας στις επιχειρήσεις το δικαίωμα να γίνουν φορολογικοί κάτοικοι αποκτώντας σημαντικά ανταγωνιστικά πλεονεκτήματα.
Foreign branch based in Cyprus
What specific business strategy allows you to enjoy the favourable tax provisions of Cyprus without interrupting your activity in Greece at all? Establishing a foreign branch in Greece and transferring your headquarters to Cyprus will provide your company with a significant competitive advantage over other domestic companies.
Ready Made Companies (RMC) in Cyprus
Do you know that you can obtain a legal company in Cyprus, fully integrated into the European VIES system and all the necessary certificates? Within 10 days, we undertake the processing of all procedures and the transfer of the corporate share so that the company can carry out any commercial activity.
EPIDOSIS: Integrated Tax and Accounting Support Services
The company EPIDOSIS provides comprehensive tax and accounting support and tax planning services for the business you intend to establish or have already established in Poland.
Λογιστική υποστήριξη από τα έμπειρα στελέχη της εταιρίας
Personalised tax planning βασισμένος στη συνδυαστική φορολογική νομοθεσία της Ελλάδας και της Κύπρου.
Keeping and monitoring the accounting books of your company.
Education - training of your executives for the correct issue of invoices - documents issued by your company.
Submission of all tax returns to the competent financial department.
Payment through the banking system of all taxes that will arise during the financial year.
Decision making from Cyprus and not from Greece, as that is where the meeting place of the Board of Directors is located.
Financial data of the company (turnover, profits, bank transfer payments) so that you can prove that your company is active and not inactive.
We are EPIDOSIS
We believe that every professional should develop their business without barriers and obstacles. To be able, unaffected by tax, accounting and legal issues, to create a functional, profitable and continuously evolving company. In addition, with a huge range of core and complementary services, he is able to embrace every aspect of your business and steadily take it to the top. Our company's mission is to assist in every key aspect of the company so that every entrepreneur can invest their time and focus on making strategic decisions that will yield profit and growth.
We are at your disposal for a free appointment at our offices in Thessaloniki and Athens or remotely to talk about your business plan and how we can contribute to your professional success with definite steps and absolute expertise.
Contact the experienced team of EPIDOSIS directly today at 2310 477725 or fill in the contact form HERE.